Terms And Conditions
As a visitor to this site, you are required to acknowledge that you have read, understood and agree to be bound by this disclaimer. The service will cost £1.50 per draw. Therefore, if you register to the Saturday and Wednesday National Lottery syndicated draws it will be £3.00 per week, and if you register to the Saturday and Wednesday AND Friday/Tuesday EuroMillions syndicated Draws it will be £4.50 per week. This is a subscription service. To unsubscribe as a text registered customer simply reply STOP to 87770. If you have registered online and are paying for the service using your debit/credit card, simply cancel via your online account provider (e.g. PayPal, MoneyBooker) and notify us by email of your cancellation. To contact the company please write to the following address: Customer Support Centre, LottoByText BCM, Box 5552, London WC1N3XX. Alternatively, you can always speak to our customer support representatives on 0161 850 4578.. Or email us at [email protected] This website is published by Bitstacker Ltd, promoter of LottoByText.co.uk and an operator of the National Lottery Alerts service. Bitstacker Ltd takes all reasonable steps to ensure that the information on this site is accurate and kept up-to-date. However, the company cannot guarantee, under any circumstances, the accuracy of the content which is subject to regular change or the functionality of the overall site. Any decision made by an individual based on information on this site is the responsibility only of that individual. The National Lottery syndicate management service is operated by Txt Lotto Ltd. Txt Lotto Ltd appoints syndicate managers who purchase all lottery tickets and manages National Lottery ticket allocation and is offered as a free service exclusively to members of the text alert service. Bitstacker Ltd does not accept any responsibility and is indemnified if any aspect of Bitstacker Ltd or the National Lottery alerts service does not comply with the laws of a particular country. People who access this site do so of their own volition and are responsible for complying with relevant local laws in their Country of Residence.
Additional Promotions
From time-to-time LottoByText will be running additional promotions & give-aways to entrants. To enter into the additional promotion you must either express an interest in the LottoByText service by way of providing your contact details or have written to the give-away promotion team at the address on the link below with the promotion name before the expiry date. Click here Bitstacker Ltd does not accept liability for loss or damage supposedly linked or relating to the use of this web site or its contents whatsoever. A member acknowledges that he/she has a copy of the said agreement or has seen and has access to the same.
Chargebacks and message failures
If a Member notifies his bank (building society) that unauthorised use of his debit card has been undertaken in relation to his Account and the bank (building society) requests that the relevant sums be returned by the Company to the relevant Member's bank (building society) account ("Chargeback"), the Company will suspend the Members service and ask the Member to contact Customer Services. If a Member notifies his mobile phone operator that unauthorised use of his mobile phone has been undertaken in relation to his Account and the mobile phone operator requests that the relevant sums be returned by the Company to the relevant Member ("Chargeback"), the Company will suspend the Members service and ask the Member to contact Customer Services The Company reserves the right to debit the Member's Account with the amount of the Chargeback together with any funds that the Member has used to purchase alerts and which are subject to that Chargeback. If that debit results in a negative balance in the relevant Member's Account, the Company reserves the right to recover that balance from the Member and the Member will not be able to receive any further alerts unless and until the balance has been so recovered.
Termination/variation/suspension
If the Company subsequently discovers that a Member was not eligible to open an Account or any information submitted during Registration is provided fraudulently, or is inaccurate, the Company reserves the right to take all appropriate steps in relation to that Member and his Account (including, without limitation, suspending or terminating that Account, and investigating any security issues). A Member has 28 days in which to appeal against the decision, with legal representation if required. The Company may also wish to suspend or terminate the service a) for repair or maintenance work or in order to upgrade or update its systems; or b) if the Company ceases to offer the Offer or any part of it to its Members for any reason whatsoever; or (c) for any other reason at the Company's sole discretion. On termination of a Members Account, the Company will return the members Unutilised Funds to the bank (or building society) account details or by cheque details of which are held by the Company. In the event that the Company is not able to return the Unutilised Funds to the relevant bank (or building society) account it will retain the Unutilised Funds for a period of three months from the date the Account was terminated. A member may cancel any Offer signed up to at anytime by simply sending "stop" to the short code number of the last message received or log into the Members Area and terminating therewith. Alternatively, if the customer has signed up to multiple Offers the customer can cancel the entire agreement by sending "stopall" to the short code number of the last message received. If any provision in the membership agreement is found to be invalid, illegal or unenforceable the Company may amend or delete the provision. The amendment or deletion of any clause will not affect the remaining clauses and provisions. The Company never forfeits its rights to require a member's compliance with the membership agreement or with applicable laws and regulations governing business conduct. Only in rare circumstances will a policy be waived, which is only permitted when conveyed in writing by the company. Any such waiver will apply only in that specific case and may not be used as a precedent in any other case. The Company's failure to exercise any of the rights in this agreement does not constitute a waiver of the Company's right to require compliance. Waiver of any part of this agreement or any provision of the rewards programme must be in writing and signed by an authorised officer of the Company. This agreement is subject to acceptance by the Company and shall be deemed to occur when the Company sends an electronic mail or text of acceptance.
Making claims
Txt Lotto Ltd the operator of the syndicate management service will disburse claims from all valid claimants from the National Lottery mobile alert service where their share is greater than 60 pence. If the amount of the claimants share is less than the said amount the claimants share of winnings will be offered as a five additional syndicated lines in the following Saturday draw at no charge. Disbursements of any funds will be made within 28 days. For any prizes greater than £1,000 the claimant will need to contact the customer services centre on [email protected] who will take the claimant through the claims process. If a Member gives debit card details relating to a bank (or building society) account held jointly with another person, any prizes won may be paid into such joint account. Txt Lotto Ltd reserves the right to require a Member to supply further documentation to verify a Member's age or identity or to request an authentication agency to verify a Member's identity. Bitstacker Ltd in conjunction with TxtLotto Ltd are the sole owners of the information collected on this site. This information is not sold, shared, or rented to others in ways different from what is disclosed in this statement. Bitstacker Ltd may from time to time use your personal data to inform you of special offers relating to the National Lottery service.
Free Monthly Sweepstake
Unless otherwise stated, Bitstacker Ltd prize draws are open to UK residents only (must be over 16) except employees of Bitstacker Ltd, their families, agents or anyone professionally associated with the offer. The decision of the Promoter is final and no correspondence will be entered into. By entering the free prize draw you agree to be bound by these terms and conditions. One winner for the lucky draw will be selected at random once a month. Automatic entry to the monthly prize draw is subject to continued use of our service for four consecutive weeks within a calendar month of our service or a minimum spend of £18 or as updated from time to time. Winner will be contacted within 30 days of prize draw by telephone or in writing. Prize (including iPad) is awarded in the form of vouchers with monetary value and is not exchangeable for a cash equivalent. The winner must claim their prize within 30 days of being notified otherwise we reserve the right to withdraw the prize. Please allow up to 60 days for prize to be dispatched from the date of redemption. All enquiries thereafter on the use of the vouchers or its expiration date should be directed to the company responsible for the production of the vouchers such as but not limited to Sainsbury's or Amazon or Capital Bonds. By entering, you give your consent (without further compensation or attribution) for us and others authorised by us to use, reproduce, modify, print, publish, distribute and display your entry for any purpose (including but not limited to publicity, news and promotional purposes). The Promoter is Bitstacker, BCM box 5552, London, WC1N 3XX. Product images are for illustration purposes only.
Lotto Rewards Loyalty Programme
Points breakdown as follows: 2.5 loyalty points are awarded for every £1 spent. 10 free bonus loyalty points are awarded for every 90 points accumulated. Facebook/ Twitter/ URL share equates to 20 points each. Successful signup from 'friend' after share, equates to 5 free Lottery syndicated lines sent to the referrers' mobile and 20 Lotto Reward points. This is the default setting. If the customer would prefer 120 points for a successful share, settings must be changed in 'Refer a friend' in the Members' Area. Testimonial approved equates to 10 points. Facebook 'like' on Page Tab is equal to 10 points. 1 point has a cash equivalent of 1p. Loyalty points are redeemable as either bonus syndicated lines or vouchers with monetary value and not exchangeable for a cash equivalent. Vouchers will only be awarded in £5 denominations with a minimum redemption value of £5. 500 points = £5 voucher OR 25 syndicated Lottery Lines. Please allow up to 30 days for vouchers to be dispatched from the date of redemption. All enquiries thereafter on the use of the vouchers or relating to expiration date should be directed to the company responsible for the production of the vouchers such as but not limited to Sainsbury's or Amazon or Capital Bonds. We reserve the right to withdraw and cancel your loyalty points if there is a reasonable belief that there may be an attempted abuse of the scheme or breach in our terms of use. If no redemption is made in one calendar year, loyalty point will not be accrued to the next year and will expire. This Loyalty programme is operated by Bitstacker Ltd.
How do I join your lottery syndicate?
Prospective Members will be expected to selected an Offer and supply information to the Company during Registration depending upon the method of registration. This information may also include, but is not limited to, a Prospective Member's:- a) name; b) date of birth; c) e-mail address; d) password details; e) address details; f) mobile number; g) credit card details h) address A prospective Member may elect to register via the Web Site or by mobile text message with or without providing debit/credit card details. In so doing the prospective member agrees to the terms of the service and the particulars of the elected Offer. The prospective Member may also elect to join more than one offer. In so doing the prospective member will separately be bound to terms of service and each Offer selected as detailed in the terms. Approval of your application to join the service will be the receipt of an e-mail and/or an SMS (text message) which confirms your service membership together with your Syndicate name, Claim Reference ID and Lotto syndicate numbers.
Eligibility
A member is appointed from the date of acceptance of the application by the company. To apply for membership you must: a) be 16 or over b) be an owner of a mobile phone and or email account c) ensure where debit/credit card details have been supplied, the debit card details supplied are those of the prospective member who is an authorized user d) ensure where a mobile number has been supplied, the mobile number are that of the prospective member who is the authorized owner e) ensure the card or mobile number referred to in the above has not been reported as lost or stolen. The Company reserves the right to refuse to complete Registration for a Prospective member for any reason in its absolute discretion.
Lottery Member Syndicate Agreement Membership
This constitutes an agreement between the Applicant or member and Txt Lotto Ltd whose Registered Head Office is: Txt Lotto Ltd, Suite 8 34 Buckingham Palace Road London SW1W 0RH
Payments
As a subscriber to the service, you agree that we are permitted to charge fees as per the offer pricing details and any other charges that you may incur in connection with your use of service. This subscription charge will continue on as per offer details. So for example, if you subscription charge interval were set to occur after each draw then you will be issued a charge the day after each draw or if your subscription charge interval were set at weekly or monthly intervals then you will be issued a charged on that basis by your chosen payment method unless and until you cancel.
Password security
Members must keep passwords secure at all times in order to prevent unauthorised access. In the event that a Member has forgotten their password the Member can click the forgotten password link and a new password will be sent to the Members registered mobile or email account.
Customer support
To contact the Company please write to the following address Customer Support Centre Bitstacker Ltd BCM Box 5552 London WC1N 3XX Alternatively, you can always speak to a customer support representative on 0161 850 4578. or email [email protected]
Warranties and indemnities
Each Prospective Member warrants that they will only use their Account and use the Site in accordance with these Terms and Conditions and in an appropriate and lawful manner and, by way of example, that they shall not in connection with using their Account or use the Site and shall not authorise or permit any other party to; a) receive, access or transmit any content which is obscene, pornographic, threatening, racist, menacing, offensive, defamatory, in breach of confidence, in breach of any intellectual property right (including, without limit, copyright) or otherwise objectionable or unlawful; or b) knowingly or recklessly transmit any content (including, without limit, viruses) through the Site which shall cause, or be likely to cause, detriment or harm, in any degree, to computer systems owned by the Company or others; or c) hack into, make excessive traffic demands on or cause any impairment of the functions of any computer system, deliver or forward chain letters, "junk mail" of any kind, surveys, contests, pyramid schemes or otherwise engage in any behaviour intended to inhibit others from participating or using the Site or any other website, or which is otherwise likely to damage the reputation or business of the Company or of any third party. Each Member and Prospective Member agrees to indemnify the Company against any costs, losses, damages and expenses which the Company may suffer or incur arising out of or in relation to any claim, legal proceeding or demand made by any third party due to or arising out of a Member's wrongful or negligent use of his Account, access to the Site or breach by that Member or Prospective Member of these Terms and Conditions.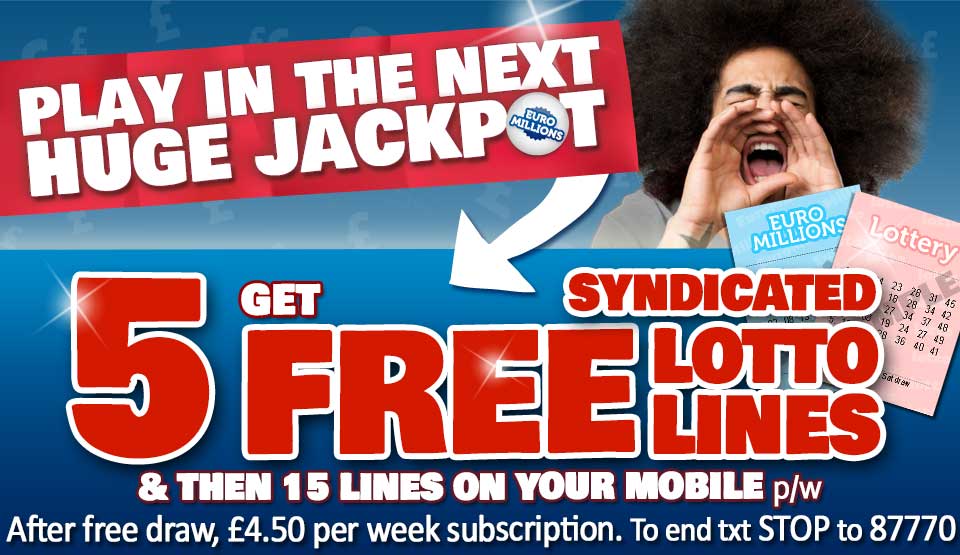 1

Enter your mobile number below

2

Reply YES to activate your 5 FREE LINES

3

Get 5 FREE syndicated EuroMillions or Lotto lines

4

After 1st draw of 5 free lines, you'll get 15 syndicated lines &draw results for only £4.50/week subscription (5 syndicated linesin each Wed & Sat Lotto + 5 lines in Fri

or

Tue EuroMillions)
Simply enter your mobile number, accept terms and click subscribe now>>
Enter Mobile No, accept terms and click subscribe now
*Subscribe to LottobyText - After 1st draw of 5 free entries, Get 15 entries over 3 draws for £4.50 per week.
Text STOP to 87770 to end subscription. Tickets are purchased in the form of syndicates max size 49 from Camelot but we are not affiliated to them. You are responsible to check & claim winnings. 16+. Info: 0161 850 4578.
EuroMillions Jackpot
Next estimated Jackpot is:
£25,000,000
£25
M
Lottery Jackpot
Next estimated Jackpot is:
£12,500,000
£13
M
Thunderball Jackpot
Next estimated Jackpot is:
£500,000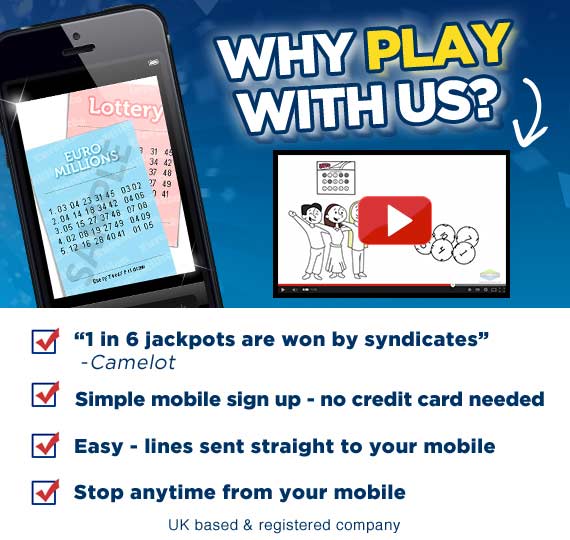 You must be 16 or over to play or claim a prize
EuroMillions Result
Draw no: 932 - Fri 26 Aug '16
Lottery Result
Draw no: 2157 - Wed 24 Aug '16
Thunderball Result
Draw no: 1951 - Sat 27 Aug '16
Syndicate News
Customer Testimonials